Here's a bold question for you:
Are you tired of feeling trapped in a life that you're not happy with and feel like you're constantly putting your precious energy toward something that's not your dream?


If so, here's the good news:
It's possible to change your situation and start making moves toward a more rewarding life, even if you don't know where to focus right now.
Let us show you how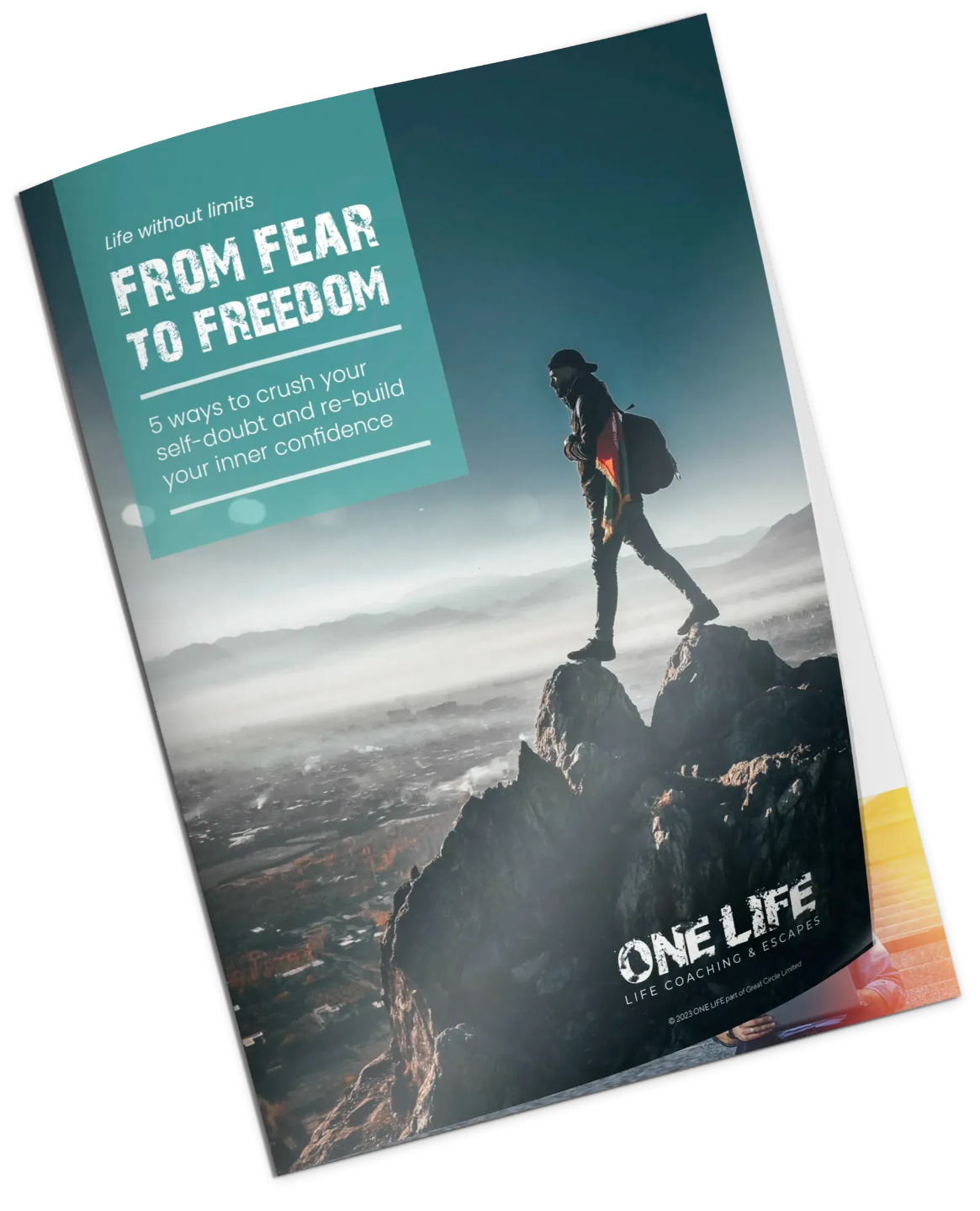 Free Guide: FROM FEAR TO FREEDOM
5 ways to crush your self-doubt and re-build your inner confidence
Your data is safe. We'll never share your details with anyone else.
I thought I had it all...
Back in 2020, I was in a high-paying job, going on fantastic holidays and eating at the fanciest restaurants. Life was good, or so I thought.
But then it all came crashing down. The workload increased, and the stress became unbearable. Unfortunately, I didn't see it coming until it was almost too late.
My blood pressure was through the roof, and the doctor delivered the news that hit me like a ton of bricks:
"If you don't change your life, you're on track for a heart attack or stroke."
I was living for the weekends and annual leave with no purpose or direction. I was stumbling through life, trying to hang on. It was no way to live, but I couldn't see a way out.
I realised I couldn't continue like this when I hit my breaking point. So, in May 2020, we decided that I would quit my job, pack up our things, and move to Spain in search of a new beginning.
It was challenging. Leaving behind the 'comfort and security' of my old life was scary, but I knew deep down that it was the right decision.
And boy, was I right. My new life is nothing short of a miracle. Finally, I found the space to decompress and figure out what truly mattered to me. I discovered a new purpose, and a massive weight has been lifted off my shoulders.
I'm no longer just surviving; I'm thriving.
I have all the time in the world to work with Andy and do the things I love. As a result, I feel happier, healthier, and more fulfilled than ever.
Looking back, I only regret not making the change sooner, even when Andy urged me to. But I'm grateful for the wake-up call that forced me to take action before it was too late.
My story is a reminder that there is always time to make a change and start living the life you truly desire. Please don't wait until it's too late like I almost did.
Life is an incredible gift, and we only get one shot at it. That's why it's so important to live each day to the fullest and make the most of the time we have on this precious planet.
Don't waste your days living a life that doesn't bring you joy and fulfilment. Life is too short to spend it doing things that don't matter to you.
Instead, take control of your life and live it on your own terms. Pursue your passions, take risks, and do the things that make your heart sing.
Don't wait for someone else to give you permission to live the life you want - you have the power to make it happen, starting today.
Hi there, we're Andy & Jules - the couple who help others discover their true purpose and live their best life.

We get it: It's a big deal to quit your "safe" life or even just to change up your daily routine so you can spend more time doing what you love (and less of what you don't).
But we can promise you that ONE LIFE will help you stop feeling stuck, drained, and lost in life trying to fit the mold you or someone else created for you.
We'll show you how to get off the emotional rollercoaster that keeps you in disharmony, so you can connect with your authentic self and live the life you deserve.
Is ONE LIFE right for you?
Maybe you're living a life you're not happy with, and yet you keep going because if not this, what else?
You feel stuck in your current life but don't know what move to make next.
Maybe the days are kind of okay, but you know something isn't quite right.
You know there has to be more to life than this.
In short: If you aren't excited to wake up every morning because you don't know what your true purpose is, ONE LIFE is for you.
Ask yourself these questions:
Is my life in a rut right now?
Do I feel like something's missing from my life?
Am I sick of living the same day over and over again?
Do I want some adventure, inspiration and motivation in my life?
Do I want to become part of a group who are exciting and on the same wavelength as me?
Do I want to be happier?
If you answered yes to any of these questions, then ONE LIFE is definitely for you.
At the end of the day, life really is too short to be unhappy, so come and join us and create a life that's truly without limits 🙌
Andy & Jules ❤️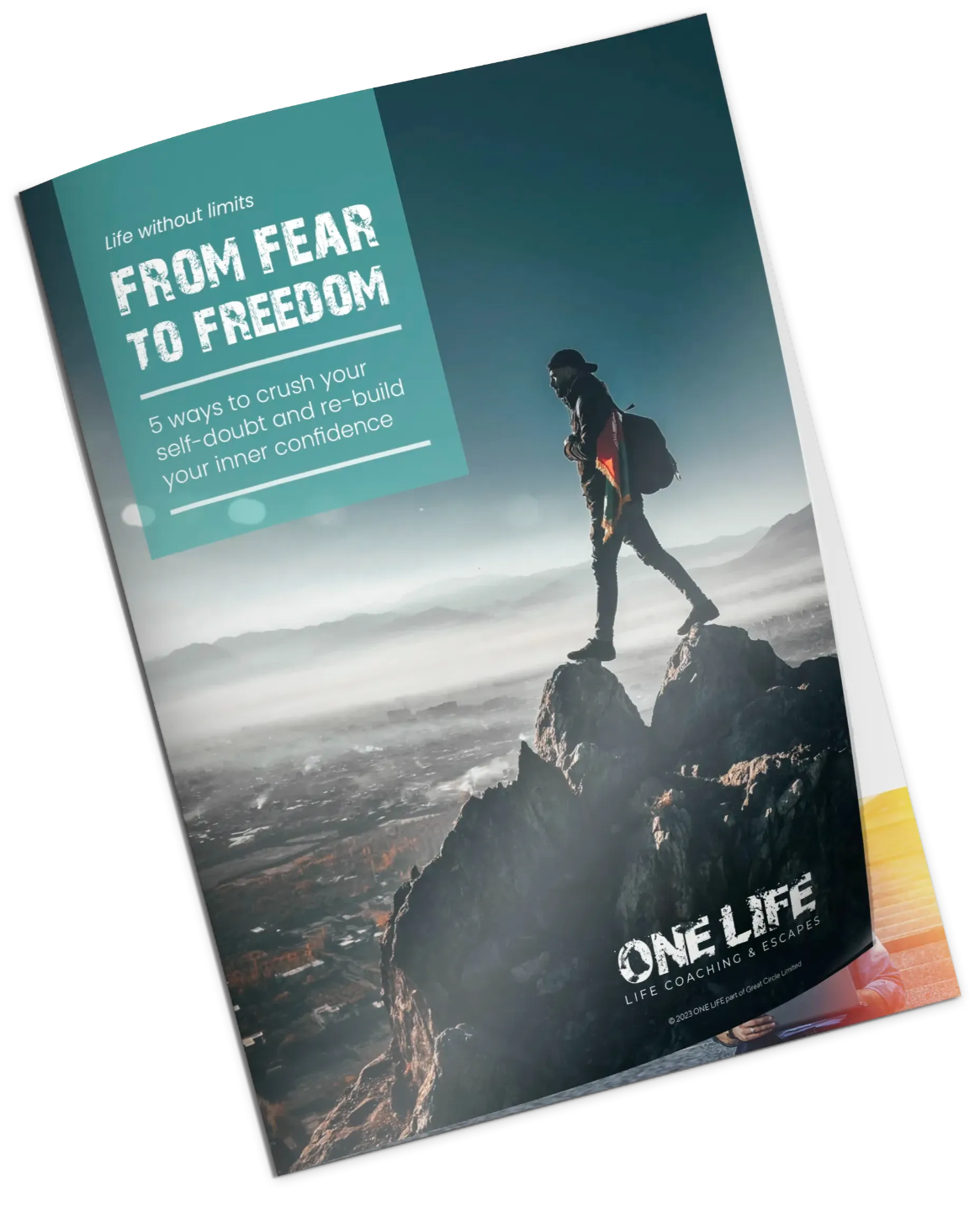 Free Guide: FROM FEAR TO FREEDOM
5 ways to crush your self-doubt and re-build your inner confidence
Your data is safe. We'll never share your details with anyone else.